08/01/2022 / By News Editors
---
The New York Times economics columnist Paul Krugman went from admitting he completely botched his "transitory" inflation calls to gaslighting readers over the possibility of a recession.
(Article by Joseph Vazquez republished from NewsBusters.org)
Krugman took to Twitter to promote his new column that aligns with the White House's latest strategy to cast confusion over the meaning of a recession just before the Bureau of Economic Analysis (BEA) is set to release dreaded second-quarter GDP numbers tomorrow. The economy contracted an unnerving 1.6 percent in the first quarter. "Ignore the two-quarter rule," Krugman bleated. "We might have a recession, but we aren't in one now."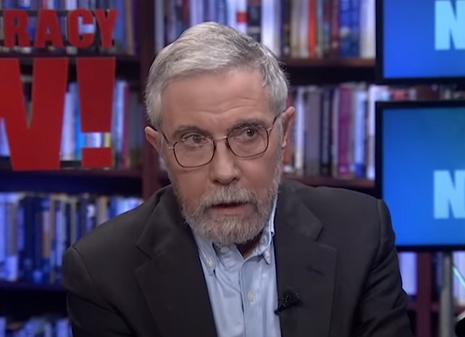 That's despite the fact that even the leftist Washington Post noted in a July 25 piece that two quarters of negative GDP growth is "generally understood to mean a recession" and that it is "rare for there to be two consecutive quarters of negative GDP without a recession."
It's humorous that the so-called economist is currently engaging in this level of stupidity. It was Krugman himself who arbitrarily proclaimed we were "very probably" staring down "a global recession, with no end in sight" after former President Donald Trump's election in 2016.
Krugman's latest column was no better than his tweet. After admitting there was a "good chance" the BEA numbers would indicate a second consecutive GDP contraction, he harrumphed how "there will be a lot of breathless commentary to the effect that we're officially in a recession. But we won't be." He continued: "That's not how recessions are defined; more important, it's not how they should be defined." This is also the same Krugman who falsely prophesied a "Coming Biden Boom" by using the same kind of random intuition he used to predict doom under Trump. To resurface the old adage, "'Oh, what a tangled web we weave, when first we practice to deceive!'" [Emphasis added.]
Krugman, like the White House, promoted the National Bureau of Economic Research as "the people who actually decide whether we're in a recession."  Krugman propagandized that the NBER "won't base their decision solely on whether we've had two successive quarters of falling real G.D.P." But as The John Locke Foundation pointed out in a July 25 blog post, the NBER is, regularly, "incredibly slow" in defining whether the U.S. is in a recession.  The NBER announced the 2008 recession about a full year after it had "started in January 2008," the John Locke Foundation blog noted.
Was Krugman this technical when he waved his crystal ball around like a madman flailing that a Trump election would also cause an irrecoverable market downturn? That doomsday prophecy, like many of Krugman's claims, didn't pan out.
Krugman's latest spin attempt comes after an op-ed he published that acknowledged the foolishness of the hot inflation takes he has spewed over the past year. "I Was Wrong About Inflation," read the headline. Less than a week after he published that column, it's unclear why Krugman is arguing a totally contradictory point that he expects readers to take seriously.
Read more at: NewsBusters.org
Submit a correction >>